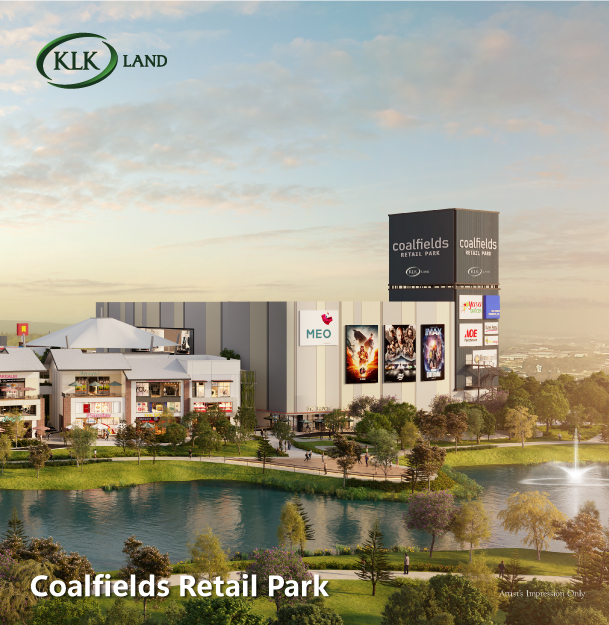 PRESS RELEASES
Sungai Buloh mall, HSR revival seen as catalysts for KLK Land's future earnings
26 Jul 2023, Kuala Lumpur
KUALA LUMPUR (July 14): Kuala Lumpur Kepong Bhd's (KLK) property arm is expected to contribute higher earnings to the group in three years, due to future launches and sales at its Bandar Seri Coalfields (BSC) retail mall, while the revival of the Kuala Lumpur-Singapore High Speed Rail (HSR) may be a boon to its Johor developments, said Maybank Investment Bank.
The research house, which placed a "buy" call on KLK with an unchanged target price of RM23.90, said KLK Land is unlikely to acquire pockets of third-party land for stand-alone developments for now, as the mandate given by the board to KLK Land is to unlock the value of existing land bank at the right time, and not chase after revenue growth at the expense of margins.
"Over the past three years, the property division's yearly revenue averaged at RM182 million and operating profit at RM59 million from its 1,001-acre (405.09-hectare) BSC — a mature township with a population of more than 10,000 — contributing to less than 5% of KLK's group profits," Maybank IB analyst Ong Chee Ting said in a note on Friday (July 14).
"However, a few catalysts can help propel KLK Land's contribution in the medium term. To us, the proposed new mall — with a gross floor area of 411,000 sq ft and net floor area of 259,000 sq ft  — targeted to open by end-2025, will complete the amenities offered at BSC for a sustainable township, and catalyst future developments there, as BSC forms part of the 6,600 acres earmarked for property development in that area."
On Maybank IB's outlook on Johor, potentially KLK Land's next growth catalyst, Ong said KLK Land may be a beneficiary if the revived HSR project follows the original alignment, of which one of the proposed stops was purportedly located next to KLK Land's 500-acre Gerbang Nusajaya Development under Scope Energy Sdn Bhd — a 60:40 joint venture (JV) between KLK Land and UEM Sunrise Bhd.
"Besides this, KLK Land has another similar JV setup in Kulai, a 2,500-acre Fraser Development, zoned for industrial and mixed development that could be launched if interest in Johor's property market picks up," he said.
Maybank IB did not change its earnings forecasts for KLK. The firm foresees core net profit for the group's financial year ending Sept 30, 2023 (FY2023) to drop to RM1.52 billion, from RM2.2 billion recorded for FY2022, as it foresees KLK's annual revenue to drop to RM22.79 billion from RM27.15 billion.
The firm also estimates KLK's core net profit to drop further to RM1.41 billion for FY2024, and then rise to RM1.48 billion for FY2025, while it predicts revenue to increase to RM23.61 billion for FY2024, and RM23.92 billion for FY2025.
At the time of writing on Friday, KLK was trading higher by two sen or 0.09% at RM22.72 a share, bringing the group a market capitalisation of RM24.54 billion.