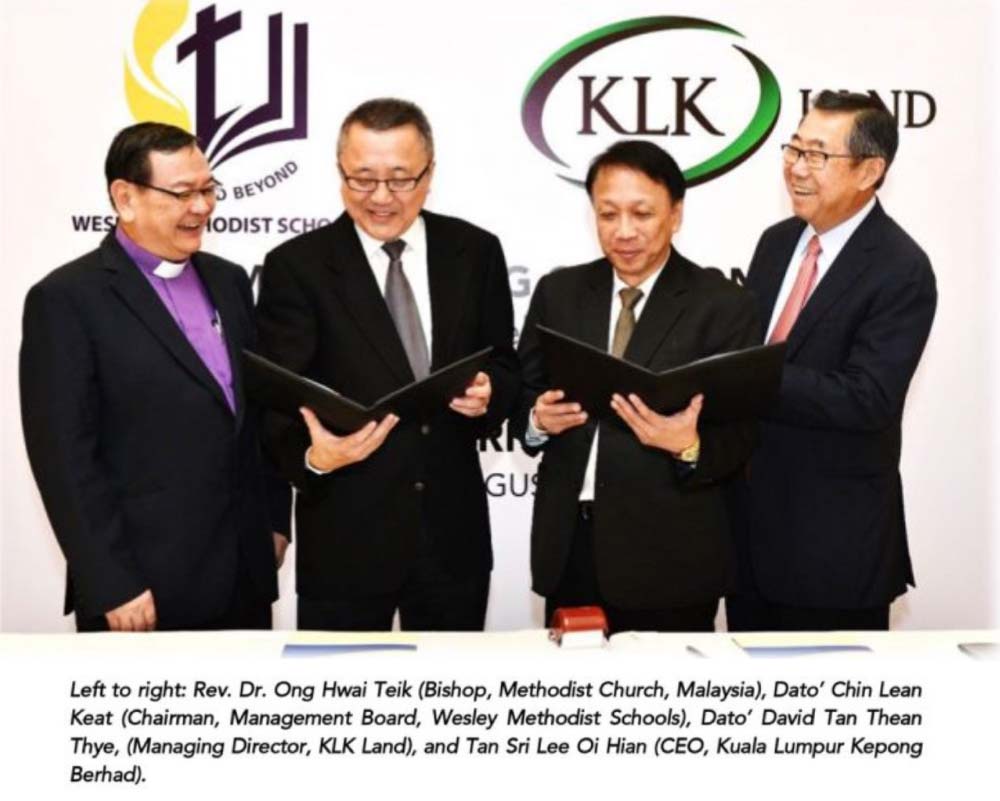 PRESS RELEASES
KLK Land To Build Private School At Its Bandar Seri Coalfields Township For Benefit Of Its Residents
30 Aug 2016, Kuala Lumpur
KLK Land the property arm of Kuala Lumpur Kepong Berhad ("KLK"), a publicly listed company on the Main Board of Bursa Malaysia Securities Berhad is pleased to announce that it has signed a Memorandum of Understanding ("MOU") with Wesley Methodist School ("WMS"), for the building and the running of a private school at its Bandar Seri Coalfields('BSC") Township. Phase 1 of the development will see the setting up of a kindergarten and primary school. There is also a proposal for Phase 2 Secondary School with international syllabus.
The erection of the school is part of KLK Land's ethos to organically establish vibrant communities through the pillar of education. The MOU is a demonstration of its commitment to the community of BSC and part 0f its efforts in building the future generation of young leaders who can contribute to the advancement of Malaysia.
Tan Sri Lee Oi Hian, the CEO of KLK commented, "We have and always believe in the power of distinguish education to transform communities and contribute to the nation building process. WMS was selected because not only has it demonstrated a good track record in providing quality education (with WMS Kuala Lumpur achieving top results in the Sijil Pelajaran Malaysia Examination for 2014 and 2015 respectively) but more importantly, the school is geared towards character building which resonates well with our organisation."
Rev Dr. Ong Hwai Teik, who is the Bishop 0f Methodist Church in Malaysia said, "We are very pleased to partner KLK Land for this project. I believe in the quotation that 'children are the living messages we send to a time we will not see." It is also the stated ethos of the Methodist Church that with education as a cornerstone every child, regardless of race, religion or creed can succeed if placed in the right school environment.
To date, over 1,500 units have been completed and handed-over in BSC. Its latest offering, Ixora Residences consist 0f 2-storey terrace homes, has seen a take up rate of 85%. It is targeted to be completed by the first quarter of 2017. Ixora Residences comprises of 226 units of landed homes.